I woke up with the tune "Petite Fleur" stuck in my head. Later I had a chance to look into it on the world wide web (particularly the musically remarkable side of YouTube).
All this finally led to Joan Chamorro at the Municipal School of Music of Sant Andreu in Barcelona, whose graduates include the brilliant 24-year-old Andrea Motis (sax, trumpet, voice), her younger sister Carla (guitar), and Èlia Bastida (sax, voice, and especially violin — "tributo al gran violinista Stéphane Grappelli").
Petite Fleur and Sidney Bechet
The good enough Wikipedia entry on "Petite Fleur" is one beginning. The tune is "an instrumental written by Sidney Bechet and recorded by him in January 1952 … In 1959 it was an international hit as a clarinet solo by Monty Sunshine with Chris Barber's Jazz Band … peaked at No. 5 on the US Hot 100 and No. 4 in the UK charts."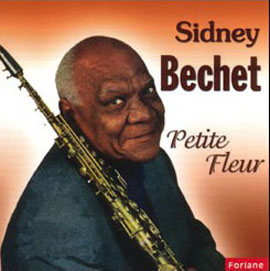 I remember the Monty Sunshine recording. (I am that old.) Somewhat later, I learned a little about Sidney Bechet. He began as a clarinet player but added a "straight" soprano saxophone to his act in his early 20s. He grew up in a musical family in early 20th century New Orleans, where he learned to play several other instruments more casually.
According to Scott Yanow at allmusic.com : "Sidney Bechet was the first important jazz soloist on records in history (beating Louis Armstrong by a few months)." In his mature incarnation he played the soprano saxophone with "a wide vibrato that listeners either loved or hated." I find his sound suitably distinctive and intriguing, without exactly wanting jazz today to emulate it.